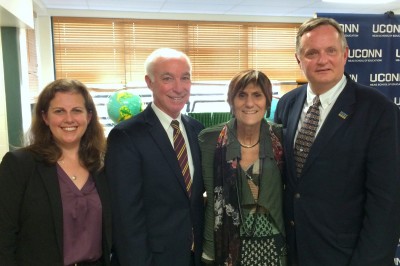 Dr. Catherine Little, Congressman Joe Courtney, Congresswoman Rosa DeLauro, and Dr. Del Siegle at
the press conference announcing Javits funding for National Center for Research on Gifted Education.
MIDDLETOWN, Conn. – The University of Connecticut's Neag School of Education announced today (Oct. 15) that it is receiving $4.5 million from the U.S. Department of Education to support its ongoing efforts to improve programs for gifted and talented students nationwide.
The Neag School of Education was the recipient of major funding for two grants in the most recent round of funding by the U.S. Department of Education's revitalized Jacob K. Javits Gifted and Talented Students Education program. The Javits funding strengthens Neag's position as a national leader in gifted and talented education and research.
The Neag School is receiving a two-year $2 million grant to create a National Center for Research on Gifted Education. UConn will partner with the University of Virginia, University of California—Berkeley, and Florida State University to form the new center. If the center meets its performance benchmarks, it will receive an additional $3 million over three years. In addition, the school received funding for a five-year $2.5 million grant for Project SPARK, an innovative demonstration project designed to increase participation by minorities and other underrepresented groups in talented and gifted programs.
Congresswoman Rosa DeLauro (CT-3) and Congressman Joe Courtney (CT-2) were instrumental in helping secure the Javits funding. They joined UConn officials in announcing the grant awards during a brief ceremony at the Wilbert Snow Elementary School in Middletown.
Project SPARK (Supporting and Promoting Advanced Readiness in Kids) adopts the Young Scholars Model that has proven successful in Fairfax County, VA. A research team led by Neag Educational Psychology Associate Professor Catherine Little will help teachers screen kindergartners and first- and second-graders in 12 diverse school districts in Connecticut, Massachusetts, and Rhode Island. Students showing high potential will take part in specialized summer programs designed to enhance their academic abilities. The project, which could become a national model, is expected to involve up to 4,000 students and 300 teachers.
At Neag's new National Center for Research on Gifted Education, researchers will be examining how gifted and talented third- through fifth-graders in Colorado, Florida, and North Carolina are taught, paying particular attention to students from underrepresented populations. Data gathered from state testing data sets, classroom visits, and other means will be used to determine how best to teach and support high-potential students from year to year. The results will be documented as best practices for all schools to use as models.
"The fact that UConn received such a large chunk of this year's grant money is a really big deal," says Professor Del Siegle, new director of the National Center for Research on Gifted Education. "As educators, our purpose should be to take every child as far as she or he can possibly go; to find potential and talent, and then to develop it. The only way our country is going to reach its full potential is if we help our children reach theirs."
---