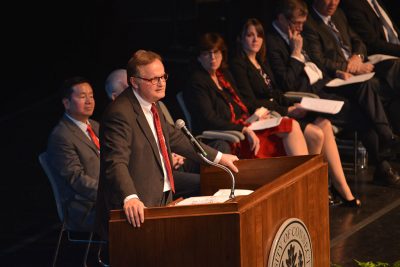 Professor Del Siegle has been named Associate Dean for Research and Faculty Affairs for the Neag School.
Siegle, a professor of gifted education in the Neag School's Department of Educational Psychology, where he has served as department head since 2011, will officially join the Dean's Office leadership team on Jan. 3, 2017.
In his new role, Siegle will serve as the dean's designee on all matters related to research and faculty affairs and will work collaboratively with departments, programs, faculty, professional staff, and others on a range of responsibilities, including overseeing faculty personnel matters; providing leadership for the research enterprise in the Neag School; facilitating faculty development in the areas of tenure, promotion, and research; and serving as the liaison between the Neag School and UConn's Office of the Vice President for Research.
"Del has a depth and breadth of knowledge and far-reaching scholarly success in education research on the national and international levels that make him an ideal fit for this position," says Dean Gladis Kersaint. "We're excited to have him take this position on as the Neag School continues to advance its research efforts and pursue meaningful scholarship in its strategic areas of focus, and we are grateful to Sandy Chafouleas for her dedicated service in the roles of Associate Dean and Director of Research over these past two years."
Siegle joined UConn in 1999, after serving four years as an assistant professor at Boise State University. He is a past president of the National Association of Gifted Children and has served on the board of directors of The Association for the Gifted. He is chair of the AERA Research on Giftedness, Creativity, and Talent SIG. He was co-editor of the Journal of Advanced Academics and is currently co-editor of Gifted Child Quarterly. He also writes a technology column for Gifted Child Today. His research interests include web-based instruction, motivation of gifted students, and teacher bias in the identification of students for gifted programs. Along with Gary Davis and Sylvia Rimm, he is an author of the popular textbook Education of the Gifted and Talented (6th ed.). He is the principal investigator and director of the National Center for Research on Gifted Education (NCRGE).